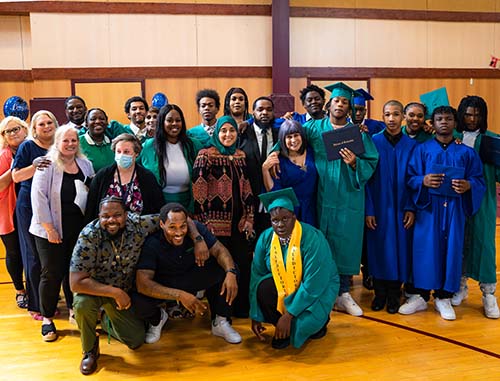 The Fedcap Middle and High School Celebrates 2023 Graduates at the 13th Commencement Ceremony
NEW YORK, NY – June 14, 2023 – Yesterday, the Fedcap School, a school dedicated to helping students ages 13-21 who have cognitive, multiple, or behavioral disabilities succeed, thrive into adulthood and achieve sustainable economic well-being, graduated 100% of its high school seniors, who received New Jersey-accredited diplomas after earning 130+ credits and completing state standardized testing. All of the school's eligible middle school students are moving up to high school. The graduation marks the sixth consecutive year in which all eligible students are graduating.
The 10 graduating high school seniors will all have successfully placed into jobs or additional services including, the Army ROTC, FedEx, Amazon, and the United States Postal Service. Four middle school eighth graders are moving up to high school as well.
The students are referred to the Fedcap School after being diagnosed with emotional regulation impairment, characterized by an inability to build or maintain satisfactory interpersonal relationships, inappropriate behaviors or feelings under normal circumstances, or a pervasive mood of unhappiness or depression. Abuse and violence are common occurrences in the lives of the students, which contributes to or exacerbates their symptoms.
Small class sizes and specially trained and dedicated instructors enable the students to learn and heal at their own pace, setting the stage for future success.
Students expressed their joy at reaching this milestone. "I will miss my days at the Fedcap School. You were always available, with an open door policy for conversation for any concerns we may have had. I cannot believe my time here is over," said Valedictorian Kia'Rona Johnson during the ceremony. Another student, Al Rasheed Durden said, "The Fedcap School made me feel safe. The teachers really care."
"The successful graduation of another class at the Fedcap Middle and High School is a testament to the inner strength of the students and the unshakable belief by our faculty that every student, when provided with the right supports, can succeed in school and step onto a path of sustainable economic well-being. We congratulate the Class of 2023 and wish them continued success," said Christine McMahon, President and CEO of The Fedcap Group.
"We serve our students by communicating, listening and suspending judgement. We earn students' confidence and we demonstrate mutual respect," said Luanne Macri, Fedcap School Director. "Every year, we are profoundly moved by the remarkable progress each student makes and we're proud of them all."
About The Fedcap Group
For 87 years, The Fedcap Group has developed scalable, innovative, and disruptive solutions to some of society's most pressing needs. Serving 340,000 people this past fiscal year, The Fedcap Group provides educational services to every age group, vocational training and job attainment in high-growth industries, as well as support services such as behavioral health services—all targeted to helping people achieve long-term self-sufficiency. The Fedcap Group also invests its time and resources in broader system change—working in partnership with federal, state, and local government to improve the way services are designed, funded, and delivered.
For media inquiries and high-resolution images, please contact:
Susan Walsh, 212-727-4200, (SWalsh@fedcap.org)